Branding & financial website design
Define a unique online presence with the right web and graphic design so customers will stop, read and book a call.
Powerful images, a good layout and a clear message make your online business more attractive to potential customers. We will create your brand's visual identity, website and landing pages to better position your business and improve the results of all your marketing campaigns.
Do you need a better brand design or a new website ?
How to stand out from the crowd
As financial markets get more and more sophisticated, having a good product or service it's no longer enough to have a profitable business. What you really need is a brand that really stands out from its competitors. That's bold, attractive and easy to remember. A professional Financial graphic designer can accomplish that.
A good visual approach to your company will be able to communicate both your tangible and intangible benefits. To create a better relationship with customers. And to position yourself as a more desirable partner to make business with.
Choose a partner that knows the financial sector
At FinancialMarkets.media, we know what visuals work better in our sector. We know what is the right design for a particular financial service. And, even better, how we can make you stand out from everyone else. And our +20 years of experience in online marketing for financial advisors gives us the advantage of knowing, in advance, which UX (user experience) design will bring you the most conversions.
Do you want to make your Financial Brand more attractive for current and potential clients, in order to improve their loyalty and engagement with your website?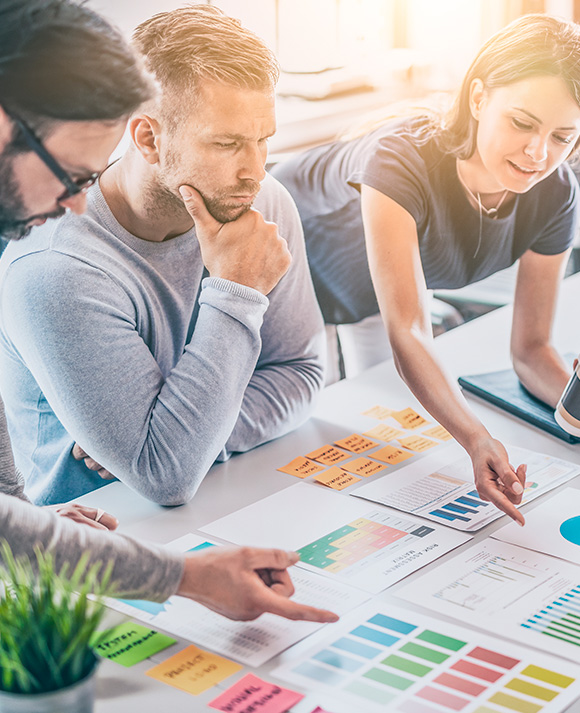 What's so great about our financial web designs?
SEO and Conversion Optimized
Your website will be designed with two main ideas in mind. Ranking better on search engines like Google and making sure your visitors become leads.
Specific for the financial market
Want to make your brand and website stand out in the financial market? We'll help you find the language, images and user experience that makes your audience remember you.
Custom-made design for financial websites
All web development projects are adapted to your specific needs, translating the vision and mission of the company into a website that involves a great brand experience.
Reliable and user friendly technology
We create our website on the best Content Management Systems that make it really simple to change or update your content according to your needs.
We will be glad to expand our media network.
You can write to us and we can schedule a call to discuss it further.
We compile information about you when you request information from us about our services and products. The type of information that we save from you includes your name, your company, and your email address. The information compiled will be used to send you the advertising/marketing information you have requested from FinancialMarkets.media and also to carry out informative communications of our current and future products and services. Your data will be saved indefinitely until you express your desire to revoke our permission to use it. Your personal information will never be shared with third parties.