The Society of Technical Analysts is delivering their Technicals to Trading System
conference on 18 April 2023 at One Moorgate Place, City of London. This intriguing theme
will address how technical analysis models can be adopted into a quantitative system.
Speakers include:
Perry Kaufman, the famous author, fund manager and US systematic trader
Robert Carver, author of Systematic Trading, Smart Portfolios and Leveraged trading
Professor Jessica James, Managing Director at Commerzbank AG
Trevor Neil, BETA Educator Limited and presenter of Trevor Neil's Technical Analysis
Surgery.
Steve Goldstein, Managing Director AlphaRCubed, Performance Coach and Host o
Alphamind Podcast.
Mark Randall, AlphaRCubed Mindfitness coach and Broking sales performance coach.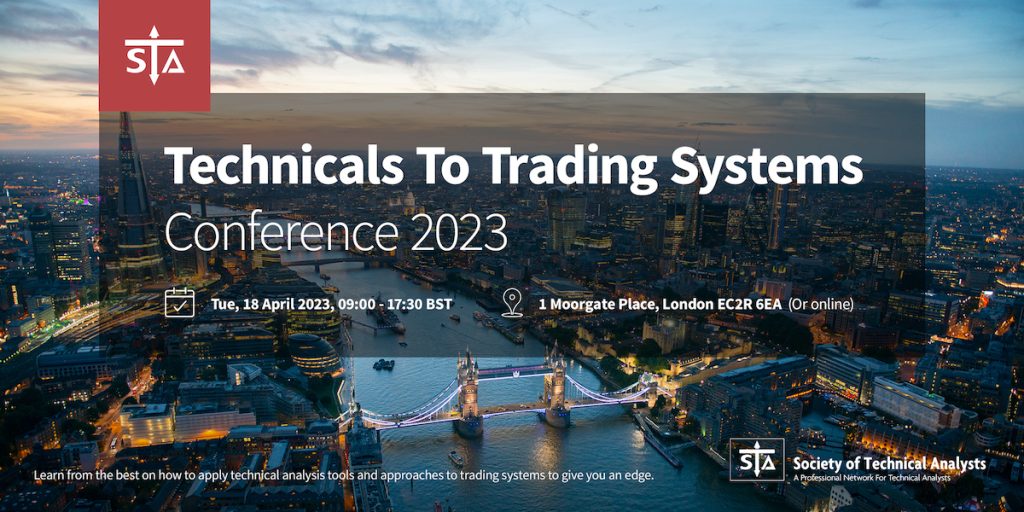 There will be a panel discussion chaired by Victoria Scholar, Head of Investment at
interactive investor and broadcaster.
This is a unique opportunity to hear all these speakers demonstrate how technical analysis
tools can be quantified and applied in order to develop trading systems.
If you are interested in getting involved either as a sponsor partner or speaker, contact
info@technicalanalysts.com.
The Society of Technical Analysts (STA) is recognised worldwide as one of the largest and
most widely respected not-for-profit organisations which trains and accredits members of
the investment community, from industry professionals to private individuals, interested in
the study of technical analysis. Members come from across 50 countries – India, Malaysia,
Australia, US, Canada, Europe to name just a few. We have been setting the standards in
technical analysis for 50 years and have been teaching our professional technical analysis
courses for over 25 years, including teaching students at King's College London and Queen
Mary University London. Over the past 50 years The STA has promotes the understanding of
technical analysis and its role as a vital investment tool.
Financialmarkets.media is a proud partner of Society of Technical Analysts